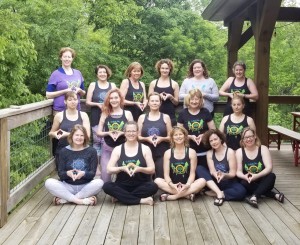 I recently spent the weekend with an amazing group of women at a beautiful farm in Oldham County for our spring yoga retreat. The May full blue flower moon and the
Eternal Moon Goddesses inspired us for the weekend. Check out the album of photos on the Infinite Bliss Yoga Facebook Page (and like our page if you haven't done so)!
The brightness of the full moon is always a special way to feel connected with the Spirit and the universe. With the month of June, we get to celebrate the Summer Solstice – the day with the longest amount of sunlight for the entire year and the official first day of summer. This year the Summer Solstice occurs on Friday, June 21. Celebrating the sun that warms us and allows for growth is a perfect time to let the sun rise in your Heart and celebrate the Light within! We have special offerings planned – classes on Friday, June 21 and a Yoga Nidra Meditation on Sunday, June 23.
The Light in my Heart honors the Light within yours.
Namaste,
Denise