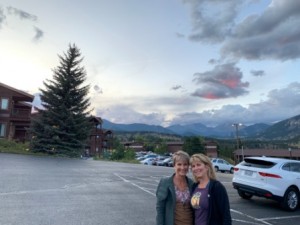 I recently went to Estes Park, Colarado for an Anusara teacher's gathering. The theme of the gathering was the power of converging together as a yoga school community with each of us bringing our own unique gifts to offer the Anusara School of Hatha Yoga.  I was honored to be able to teach a class and bring some of my love of science into a yoga theme and also get to study and practice along side many other uniquely skilled teachers.  The photo above is of my dear friend Gail and me and was taken early with a beautiful sunrise before meditation one morning.  Gail Corvette (Certified Anusara teacher in Charleston, SC) is my BYF (best yoga friend)!  We met in 2009 at an Anusara yoga training and have been studying together almost every year since.
Anusara has manifested into a non-profit teacher-led school.  The school now has over 1000 licensed teachers worldwide and growing every day.  I am proud to be part of this community that celebrates the alignment of the Heart, Body and Mind as we Open to Grace.
We have a few Infinite Bliss community events at our own studio this month that you won't want to miss:
IB will again be hosting musician Jeremy Arndt and Nancy Grzeszak for a restorative yoga evening.  Be sure to click the link below to reserve your spot today – you won't want to miss this blissful musical reverie!
Metro Louisville Government is once again sponsoring CycLOUvia on Sunday, October 20.  All car traffic will be stopped and we will be out on the sidewalk and street having fun practicing FREE yoga between 3 – 4 pm.  Be sure to come by and do some yoga with us!  Invite your neighbors and friends new to yoga to stop by as well – we will have new student coupons and information.
Happy Fall!
Love,
Denise