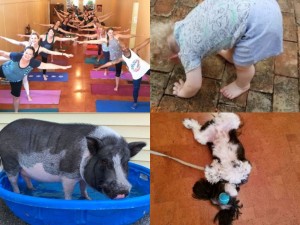 The Hog Dog Days of Summer
We started summer with a bang in our July 4th class as we did a firework pose! Then the heat wave hit and we all just wanted to stay cool. Cooper enjoyed his swimming pool. Pippin found the cool studio floor for his favorite yoga pose savasana. And Sebastian (Lauren Martin's toddler) practiced his down dog as he found the cool bricks while helping his mom weed. How do you stay cool?
There is the physical form of cooling down, but also there is the mental form of keeping one's cool. I hear stories all the time from many of you about how your yoga practice helps you stay calm, cool, and collected during trying situations.
Come on in and we will practice keeping our cool together! We have a Yoga Nidra Meditation on August 11 which will be sure to calm you and we have toddler/preschool and kids' yoga classes for teaching your children positive ways to manage their cool.
See you on the mat.
Love,
Denise