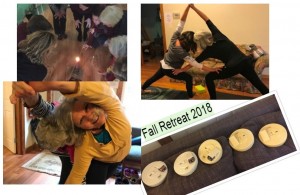 Happy Holidays!
Please join us this Saturday, December 1, at the studio for our annual holiday potluck. The studio will be open from 6 – 8 pm. Bring a dish to share and your favorite beverage. Come mingle with friends and enter a raffle for an Infinite Bliss t-shirt!
Pippin, our IB furry student who has an amazing downward-facing dog (Adho Mukha Svanasana), would like to extend an invitation to you to help us collect donations for No Kill Louisville! There is an angel tree at the studio with donation tags. Please take a tag and bring your donation to the studio.
We have lots of gift ideas for your yoga friend or someone who could use the 'gift of yoga' in their life! The retail center is stocked with yoga mats, straps, blocks, mat towels, bolsters, yoga mat backpacks, yoga massage balls, and mat cleaner. We have a varied selection of IB shirts all designed by Rachel Stottmann.
We also have gift certificates available.
Come take class and shop!
Thanks for being a part of Infinite Bliss Yoga.
I hope you have a wondrous holiday season.
Love,
Denise