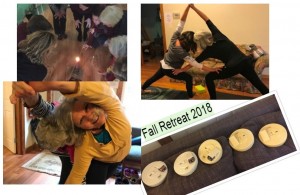 Last weekend I co-led a yoga & dream tending retreat with Kim Greene. Our intention for the retreat was to take 24 hours to find repose – to rest, relax, and find peace – even in difficult times. We had a bumpy start to the respite as when we lit our fireplace, it soon became apparent that the chimney was not drawing correctly, and the house became smoky and every smoke alarm in the house was blaring! Things did eventually quiet down (after a visit from the maintenance man – thank you Nathan) and we had a wonderful time together.
The drive home made me realize just how much that smoke had seeped into every belonging in my car. As I sat in meditation following the retreat, what I was filled with was this: The Spirit seeps like smoke and has an eternal Light like burning embers. When we remember and sit with our awareness on our Heart, we give that Divine loving energy of Light permission to seep and flow from inside us, to fill and permeate every crevice of our body and mind, to expand even further out of our embodiment into the world around us.
And then this morning, Kim emailed me this mantra from her meditation class yesterday: "Spirit of Light – Dance in My Darkness"
Me we all choose to dance with the Spirit and offer more Light to the world! May each of you have a joyous Thanksgiving holiday.
Love,
Denise