Fertilize your roots in the community of the heart to grow and flourish…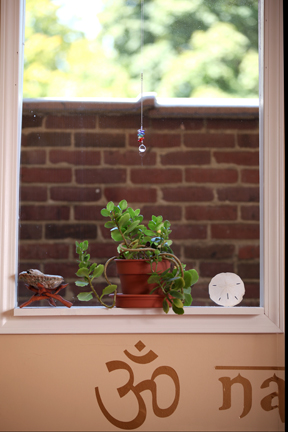 Welcome to Infinite Bliss Yoga – a studio in Louisville's Highlands neighborhood which offers a loving, caring, and fun atmosphere in which to practice.  We honor the body, mind, and spiritual heart as they come together in a relationship that pulsates with the energy of your life each day.  We focus on optimal alignment of your body, mind-provoking conversations, and lots of laughter as we connect to our divine spirit.
At Infinite Bliss, the focus is on the kula, Sanskrit for 'community of the heart.'  The kula is the community of your choice, your own magnetic qualities, and the way you feel at home with the company you keep.  It is at the same time all the ways that you keep company with your self.  Your access to the kula of you and the outside kula make life rich, meaningful, and infinitely blissful.
Come visit Infinite Bliss to develop, deepen, and do your yoga practice.
Our Mission
Infinite Bliss strives to provide students with the most current yoga knowledge while creating a fun, playful environment. We also hope to create a friendly yoga family and a sense of community for all students, especially our many newcomers to the Louisville area.
Types of Classes at our Studio
All of the classes offered here at our studio fall under the umbrella term Hatha (postures and breathing). Our teachers may incorporate many influences from their years of practice, however all of our teachers have had at least some influence and training in the Anusara® style. The owner, Denise Stottmann, is licensed as a Certified 500-Hour Anusara Yoga Teacher. Ken Baker and Tammy Ray are both Anusara-Inspired 200-Hour teachers.
About Anusara
Anusara is a unique approach to hatha yoga where the spirit of the HEART powerfully blends with the precision of biomechanical ALIGNMENT and balanced energetic ACTION in the performance of asanas (yoga postures).  The word "anusara" originates from a line in the Tantric text called the Kularnava Tantra, "shaktipata-anusarena shishyonugraham arhati", which means: by entering the current of Divine Shakti's descent into the heart, the true disciple becomes capable of receiving grace.  Anusara literally means to be in the flow.  Anusara yoga invites you to step into the current of the Divine and to flow with Grace.
Client Testimonials
"By far your studio is the best facility I have ever practiced yoga!! You offer a variety of classes with varied time options and your instructors are so professional!!! Each of them offers a unique and special class that has challenged me and help me to improve my practice."