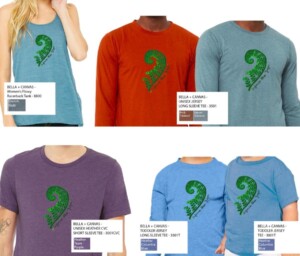 What a year…spiraling and contracting inward as our city shutdown and the studio was closed – and then spiraling and expanding outward as we added Zoom virtual classes and then reopened in mid-June. Like many businesses during this pandemic, it's been challenging to keep the Infinite Bliss studio operating.  But the IB family is so loving and so supportive…our kula is so strong.
My daughter Rachel, the artist, and her boyfriend Darren, the graphic designer, created a new Infinite Bliss t-shirt design with a fern spiral for my Christmas 2019 gift.  Spirals are seen everywhere in nature – just a few examples are plants growing, water movement, formation of clouds, our DNA.  The Anusara Universal Principles of Alignment even address expanding and contracting spiraling energy moving in our arms and legs.
The printing of the t-shirts was delayed due to the arrival of COVID-19 as the studio's revenue was drastically altered.  I am excited to present a new T-shirt campaign to support the IB studio.
I have sample shirts at the studio if you want to see fabric and/or sizing.
I will be taking pre-orders (with prepayment) through October 7 for any of these shirt options (see photo above).
Bella Canvas Shirts for Pre-Order:
Long Sleeve:
Unisex Sizes XS – 2XL; $30 (2XL + $2)
Colors: Brick Triblend and Denim Triblend
Short Sleeve:
Unisex Sizes XS – 2XL; $25 (2XL + $2)
Color: Purple Triblend and Denim Triblend
Women's Flowy Racerback Tank Top:
Sizes XS – XL; $25
Color: Denim Slub
Toddler Long Sleeve:
Sizes 2T – 5T; $20
Color: Heather Columbia Blue
Toddler Short Sleeve:
Sizes 2T – 5T; $15
Color: Heather Columbia Blue
To pre-order your shirt(s), please reply to this email with your order or call or text Denise at 502-509-7755.  You can pay at the studio or I will email you an invoice to pay through the secure Square site (sales tax will be included).  Shirts will need to be picked up at the studio.
Thank you for being a part of the Infinite Bliss community.
Love,
Denise