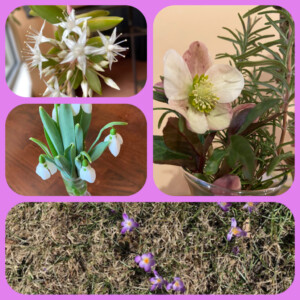 Spring is a time of new beginnings and renewal.  The Earth is literally springing up and out with new growth.   We can't wait to get outside and feel the warmth and see the sprouting beauty.  Embrace the vibrancy of a new season!
Check out the signs of Spring in the photo collage:
Top right – Lenten Rose from Saundra Dockin's yard
Bottom center – Early Lavender Crocus in Kathy Eickmann neighbor's yard
Middle left – Snowdrops from Kathy Eickmann's yard
Top left – unidentified succulent blooming for the first time in Infinite Bliss'succulent tray
What seeds of intention have you saved and tended over the winter?  Spring planting time is right around the corner.  Your yoga mat is a great place to fertilize your seeds of intentions.  Remember our slogan,
"Fertilize your roots in the community of the Heart to grow and flourish."
Let's grow together – see you on the mat soon!
Love,
Denise