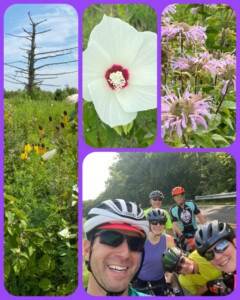 I was able to complete my annual 62 mile birthday bike ride surrounded by loved ones and friends! We delayed the excursion to the first week in August due to extreme heat. Those of you who know me well, know that yoga and bicycling both bring me joy. I absolutely love that my bicycling kula is made up of family (Ed and Kate) and several friends, all whom I know through yoga at Infinite Bliss (Adam Roger, Peter and Mary Vaananen). It appears there is some overlap in the two kulas just like a Venn diagram with overlapping circles. My yoga kula has spread and seeped into all of my life.
I recently came across this quote:
"When you recover or discover something that nourishes your soul and brings joy, care enough about yourself to make room for it in your life."
Jean Shinoda Bolen
How does your yoga practice seep into your life? In relationships, in choices, how you view the world, and what you notice…
School is back in session and fall is a great time to recommit to your practice. Come take a yoga class and we will have some fun together and learn while we are at it.
It will do your Body, Mind, and Heart some good.
Join me for the Labor Day Holiday class and check out the upcoming
Welcome Fall Yoga Nidra Meditation, Chakra Balancing Workshop and a Full Moon Fall Yoga Hiking retreat and more!
See you on the mat.
Love,
Denise