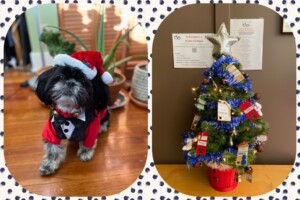 Happy Holidays!
Infinite Bliss Yoga is again hosting a giving tree with tags for No Kill Louisville who is coordinating collection of donations for all animal care shelters in the Kentuckiana area.  Pippin is asking nicely for you to pick up a tag or two and bring your donation back to the studio by December 24!
Reserve your spaces now for wellness with much-needed stress release and relaxation during the December busy season!  We are welcoming back Jeremy Arndt and Nancy for a delightful Restorative Yoga Sound Journey on Sunday, December 19.  It will be wonderful to have the studio full of their unique sound vibrations again.  I will be leading a special Candlelight Winter Solstice Celebration slow flow class on the solstice, Tuesday, December 21.
Please check out the events already planned for January 2022:
Give the gift of yoga to a loved-one, friend, or yourself with the Basics Series.
Start the year with a peaceful Yoga Nidra Meditation practice.
You won't want to miss the new Artist Series – Cultivating Creativity Workshop!  Christine Saladino and I will be partnering for this offering and we will be making mala bead necklaces for the first in this series.
Thanks for being a part of Infinite Bliss Yoga in 2021.  It has been a challenging year as a small business owner and I truly appreciate each and every one of you and your support.
I hope you have a healthy holiday season.
In Love and Light,
Denise