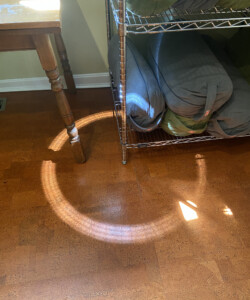 Last week we celebrated the Summer Solstice and honored the almost 15 hours of sunlight (14 hours, 49 minutes, 49 seconds) with 15 rounds of Sun Salutations in many of my classes.  We discussed and felt how Cit Prakasha, the Light of Consciousness, flows into us and out of us in our asana and meditation. On the very last class, we came out into the mat lobby area and discovered this beautiful ring of Light on the floor – an unexpected convergence of light rays hitting the shiny chrome bolster shelving end rod and reflecting back onto the floor.  I love these signs the Universe sends and we receive when we are paying attention!  It only lasted a few minutes and then the sun shifted enough in the sky and the ring was gone. Truly a perfect example of cit ananda!
Pay attention and you will receive.
Join me on Monday, July 4 at 10 am for an all levels holiday class as we celebrate what it means to have freedom as we cultivate reciprocity in challenging times.
We have several events planned this month – be sure to read below!
Love,
Denise