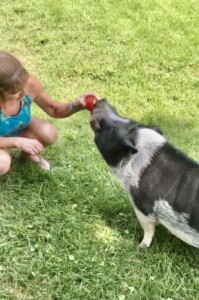 We have had a hot and dry summer as of late.  My daily gardening watering chore has taught me to slow down and enjoy the bounty and beauty.  I have been sharing lots of photos of my garden in my classes this summer – the milkweed and Monarch butterflies, the 3 Sisters indigenous-style of planting corn, beans, and squash, and the surprise Passion Flower blooming have all brought me such joy.  I also have been growing Peppadew Peppers for the first time in a project with my dear gardening friend Jackie (they are so delicious on pizza) and I have a delicious crop of tomatoes. Cooper has certainly enjoyed the daily activity as he is rewarded with a green bean or tomato if he keeps me company.  The photo depicts Cooper's form of the Cobra yoga pose!  Grace shows up in so many places when you slow down and pay attention.
Autumn is almost here (September 22) and we have a lot of upcoming Infinite Bliss events at our own studio this fall, so please read below so you don't miss out!
September offerings include a yoga field trip to the Speed Museum, a Welcome Fall Yoga Nidra meditation, and Kids Yoga.
Metro Louisville Government is once again sponsoring CycLOUvia on Sunday, October 10.  All car traffic will be stopped on Bardstown Road and we will be out on the sidewalk and street having fun practicing FREE yoga between 3 – 4 pm.  Be sure to come by and do some yoga with us!  Invite your neighbors and friends new to yoga to stop by as well – we will have new student information.
The long-awaited 3 hour ball rolling workshop is happening on Sunday, November 7 – this will be a delightful self-care treat for you.
Happy Fall!
Love,
Denise