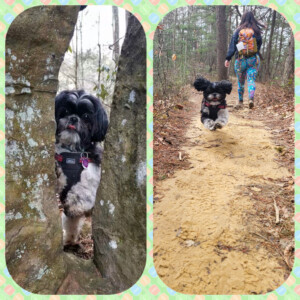 Spring has sprung!
Pippin, our beloved yoga dog, has been training and planning hiking routes for our
Hike & Yoga Trip to Red River Gorge, May 14 – 16.  He may even do a downward dog with us!  Make plans now to join us for a day trip or the weekend.  See below for details and registration.
Spring offers us a multitude of ways to experience ananda (joy and bliss) outside.  But as you venture outside, make sure you also take time to venture inside to tend your Heart and reunite with the ananda within.  Join us for a Yoga Nidra Meditation on Sunday, April 25 in honor of Earth Day.
Love,
Denise