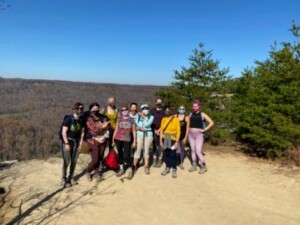 Happy Holidays!
We had glorious sunny warm weather for our hike and yoga event at the Red River Gorge, November 6-8.  Check out the photo!
Due to the pandemic, we will be unable to hold our annual holiday potluck.  Although this saddens me, I look forward to a big outdoor event with all you invited next July, when I will be celebrating 10 years as the owner of Infinite Bliss Yoga!
We have a special Winter Solstice Celebration event planned on the solstice, Monday, December 21.  I have scheduled a special therapeutic ball rolling class before the solstice event.  Work out all the pandemic and holiday stress rolling and then pamper yourself even more by joining the candlelit slow flow class appropriate for all students.  I hope you can join me for one or both!
Thanks for being a part of Infinite Bliss Yoga in 2020.  It has been a challenging year as a small business owner and I truly appreciate each and every one of you and your support.
I hope you have a healthy holiday season.
In Love and Light,
Denise